From simple repairs, EV chargers, solar panel installs to full system upgrades.
From electrical repairs and maintenance to full installation and upgrades.
Trusted Licensed Electrical Services in Vancouver
Whether you have a simple home wiring issue, panel replacement to a large home renovation or a new home construction – we can handle it. We're on-time and cost-effective. Put our electrical skills to work to solve your needs, whatever it may be – our electrical team is committed to delivering exceptional customer service and lasting solutions for your home or commercial space.
Electrical Contracting Services
From renovations, repairs to installations, our skilled electricians will take care of everything for you. We guarantee our services.
GET A QUOTE
Solving all Residential & Commercial Electrical Needs
We're licensed and insured, and our team of experienced professionals is always available to help you get the job done right, on time and on budget.
Specializing in:
Save money on your electric bill by switching to clean energy. Solar panels are better for the environment than other ways of generating power, and Rainforest Electrical & Solar will install them in a safe way that maximizes every benefit.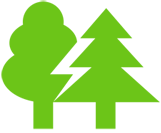 Work With Us on Electrical Projects Big or Small
Look no further than Rainforest Electrical. We offer a wide range of valuable electrical services that are sure to meet your needs.
Our team of qualified and experienced professionals are dedicated to providing you with the best possible service.
That's why we take great care in ensuring that all of our installations and repairs are up to code and compliant with industry standards.