You're probably thinking to yourself, "I can't afford an electrician!" But you're wrong. You can save money by hiring a residential electrician for your next project.
Electricians are an important part of any home's construction process. Whether it's upgrading existing wiring or adding new circuits, a qualified electrician can make your project go much smoother. But with so many home renovations going on at once, it can be hard to find one that offers competitive rates and quality work.
Rainforest Electrical is here to help. Our experienced professionals offer competitive rates and a wide variety of services, so yu can save time and money.
What are the benefits of hiring a residential electrician?
Hiring a new construction electrician can be a great investment for your new construction project. By having an experienced professional handle the wiring and installation, you can avoid potential problems down the road. Here are some of the benefits of hiring an electrician:
-You'll be able to avoid issues with faulty wiring or installations.
-You'll be able to get the job done faster, which will save you time and money.
-You'll have someone who is familiar with all of the latest electrical codes, so your home will be as safe as possible.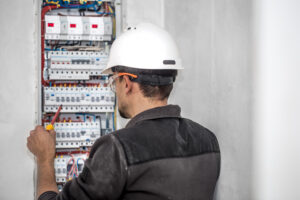 Experience: Electricians should have experience working on new construction projects. This will help ensure the project gets completed on time and without any electrical issues.

Certification: Certification ensures the electrician is knowledgeable in their trade and has the proper training to do the job safely. There are a few different certification levels, and each one has specific requirements that must be met. The Natinal Board of Electrical Contractors (NBEC) offers several certification levels, including Certified Professional Electrician (CPE), Registered Professional Electrician (RPE), and Master Electrician (ME). Each level requires different qualifications.

Licensing: Electricians should have all of the licensing necessary to do their job properly, including a license from the state in which the electricians live. Without proper licensing, an electrician could be breaking laws and putting your home at risk.
Services Offered by Residential Electricians
Electricians are an essential part of any home construction project. We install, repair, and maintain electrical systems in homes and commercial buildings. Whether it's a new build or a renovation, electricians are the professionals who can make everything run smoothly.
In addition to installing and repairing electrical systems, electricians can also provide advice on safety and installation techniques. We can help you troubleshoot problems before they become major issues, and we can even recommend upgrades or modifications to your electrical system.
Rainforest Electrical offers a wide range of services related to electrical contracting, including new construction electrician services. Whether you need help with a single task or require an entire electrical installation, we're here to help. We have years of experience in the industry, so we can provide you with quality work and advice. Contact us today to learn more about our services and how we can benefit your business.

Cost Savings of Hiring a Residential Electrician
When it comes to home improvements, there is no one better qualified than a residential electrician. Rainforest Electrical can help you save money on your new construction project by hiring an experienced electrician. On avrage, a residential electrician can save you between 10% and 30% on your electrical bill. Hiring a professional will also ensure that your home is properly wired and up to code, which will protect you from potential electrical hazards.
Rainforest Electrical is highly recommended for all your electrical needs. With our affordable prices and excellent customer service, you'll be sure to save time and money while getting the best possible service. So don't wait any longer – call Rainforest Electrical today!